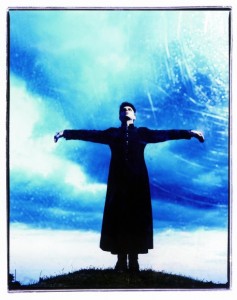 Went to see him at Leeds O2 Academy last night. In preparation, I bought his latest 3 albums as I only really know his more famous tracks.
I was somewhat disappointed, the production on Exile is terrible, Pure is better, but get;s a bit repetetive. The new album Jagged has excellent production and there's some good tracks, but again begins to feel a bit repetetive. (sorry to any die hard fans, just my opinion)
So all in all, I was actually a little aprehensive about seeing him live, I was worried it might be dull/repetetive or just generally disappointing.
How wrong was I? It was a GREAT show, massive energy considering it's mostly downtempo stuff. They kicked off with the synth classics, then 3/4 of the way through, Gary and his front man ditched their synths and strapped on some Gibson Les Pauls to play along to the tracks from his last two albums.
They did all the classic essentials, Cars, Down In The Park and Are Friends Electric, they were all spine-tinglingly good, especially Friends.
If you have the chance to see him on this tour, then I'd say SNAP IT UP! You won't regret it!